When considering pricing for a business phone system, there are many factors to consider. A basic phone service typically starts at $20 each month, for one user. This does not include equipment but will have some form of software.
On average, a business phone system will cost between $800 and $1,000 per user. A KSU-less system costs $100 to $250 per phone, a key system $300-$1000 per user, and a PBX system will cost between $500-$1,000 per user.
In terms of hardware, a simple Panasonic KX-TPA65 phone can cost as little as $50 and comes with an LED screen and voicemail capabilities.
More advanced phones like the Polycom VVX 401 can cost upwards of $125 per unit. Another component you'll need for your reps is the handset.
The average price per handset is $200 for a low-end unit, while a high-end handset can cost upwards of $1,000. Times that by the number of users for a rough guess of what to budget.
Get Free Business Phone System Quotes
Why Should I Get a Business Phone System?
If you're looking to increase productivity, one of the best ways is to install an interoffice phone system. Replacing a single-line phone system, it also increases call reliability and reduces labor costs.
There are many different types of office phone systems you can purchase depending on your business needs. Set-up is typically an easy process and most vendors now offer a suite of apps to complement the equipment.
Types of Business Phone Systems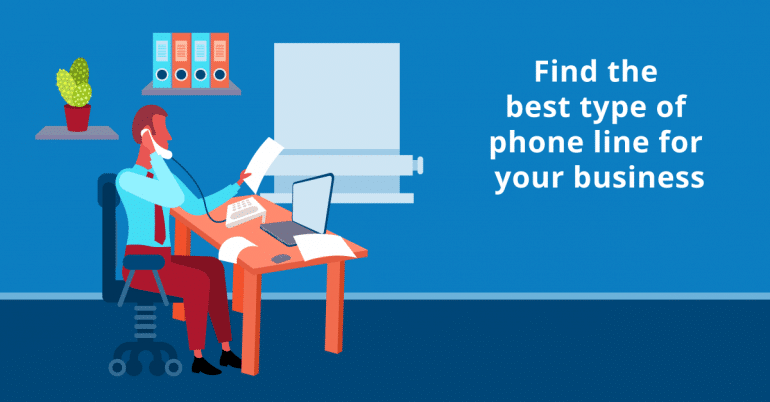 The type of phone system you choose will set the cost. There are three main types of office phone systems:
KSU-less system
Key system
PBX system
These are listed in order from least to the most complex. The smaller the business, the less likely you will need a PBX system.
However, a PBX phone set-up also comes with multifaceted features. So, if you are looking to integrate additional apps like a CRM, company size may not matter.
KSU-less System
If you have fewer than 10 employees, this may be your best option. The "less" part of the name refers to the fact that the phone system does not require a central control unit.
Each phone in the office can link to others and is a separate entity in the chain of communication. Due to the simplicity of the system, the KSU-less does not require professional installation.
No rewiring or complex integrations are necessary. Any unit can be unplugged and relocated to another desk. This is what makes it the least expensive on the market.
Key System
A Key System is best for a business of up to 40 employees. A central unit controls numerous lines and extensions in this type of phone system.
Multiple lights will flash on each phone to show which lines and extensions are in use.
Typical features in a Key System can include:
Intercom
Hold
Memory Dialing
Transferring
Music for hold
Paging
Speakerphone
And more…
A Key System and a PBX system have many overlapping qualities; however, Key Systems are typically less flexible than a PBX. This is what also makes them less costly.
PBX Phone Systems
A business with more than 40 employees should really consider a PBX system for their office phones. In the past, these used to be massive units, but a small business PBX can fit on a desktop.
A company with multiple departments and divisions finds the best use out of this set-up.
PBX supports a wide range of intricate features like:
Auto-attendant
Computer-telephony Integration (CTI)
Integration with external systems
Programmed to meet specific demands
A PBX system far exceeds just a phone line. It's a means of streamlining operations. A small business should expect to pay more upfront than a larger business.
However, the initial cost is offset in the long run as an organization grows and expands.
Comparing The Top 3 Best Business Phone Systems
Once the expected budget is determined, it's time to investigate the top brands on the market. All pricing plans are on a monthly basis and determined by the user.
Typically, if you pay the annual fee, it's at a much lower cost. The best three out there for any business right now are RingCentral, Nextiva, and Vonage.
1. RingCentral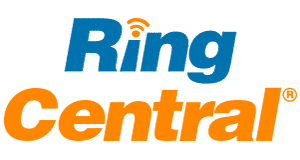 RingCentral has a sliding bar on their pricing plan. You can choose whether to view them by annual or monthly rates. If you pay by the year, you save 33% on cost.
Company size is broken into four sections:
1 user
2-99 users
100-999 users
1000+ users

The pricing breaks down into four packages:
Essentials
This is the basic package and with 1 user, the price is $29.99/month. In a company of 2-99 users, it goes down to $19.99/month.
The Essentials package is not available for any company larger than 99 people.
Standard
The Standard package is the next level up and starts at $34.99/month for 1 user. It then decreases to $24.99/month for companies with 2-99 users.
For a business between 100-999, the price is $32.99. Anything over that is offered at $29.99/month.
Premium
The Premium package has many more features than the first two and starts at $44.99/month for 1 user.
For a company 2-99 users, the price is $34.99. 100-999 users the cost is $32.99 and anything over that is $29.99.
Ultimate
The Ultimate package comes with the most features, from Salesforce integration to multi-site support. For 1 user the cost is $59.99/month.
For 2-99 users, it goes down to $49.99. For 100-999 users, the price is $42.99 and anything more is $39.99/month.
The features for RingCentral differ by package and are great in number. Every package comes with the main functions of an office phone system, which include:
Unlimited calls in the US
A toll-free or local phone number
100 toll-free minutes/month
Voicemail-to-text
For more information, RingCentral has excellent customer support. They also have add-ons like extra phone numbers and international calling.
2. Nextiva


The pricing for Nextiva is divided by package, users, and contract.
There are three ways to pay:
By month
36-month agreement (by month)
12-month agreement prepaid
Your lowest rates will be if you prepay for the contract. Promising 36 months will bring in the next lowest costs. The company size is divided as such:
1-4 users
5-19 users
20-99 users
100+ users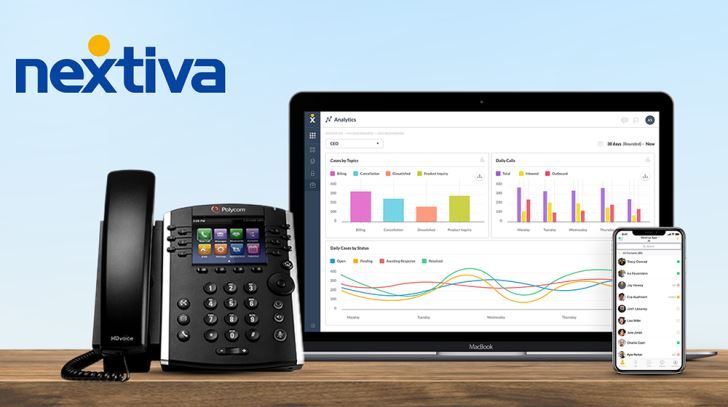 Again, the more users, the lower the rates. The difference between the rates of 1-4 users and 100+ is about $10-11/month.
The three packages Nextiva offers are Basic, Pro, and Enterprise. They all include a business phone service and customer relationship suite.
Basic
The basic package starts at $20/mo/user and goes up from there depending on the factors discussed above.
Features include the ability to:
Communicate
Manage prospects
Service customers
Collaborate with teams
The most expensive price for this package is for 1-4 users paying $35/month/user.
Pro
The Pro package starts at $25/month/user. It includes everything that the Basic package does, plus the ability to survey customers.
The most expensive price for this package is for 1-4 users paying $38/month/user.
Enterprise
The Enterprise package starts at $30/month/user. It includes everything that the other two packages offer, plus the ability to run analytics and live chat.
The most expensive price for this package is for 1-4 users paying $55/month/user.
Get Free Business Phone System Quotes
3. Vonage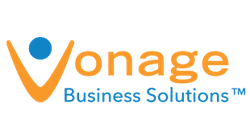 The Vonage phone system offers over 40 different features with every package. Unlike the other two on the list, they have separate pricing for a mobile plan.
Every plan comes with a free 14-day trial and includes:
Service via high-speed internet
Use your own phone number
24/7 Us-based tech support
999% uptime reliability
Large selection of hardware
The system is divided into lines and packages.
1-4 lines
5-19 lines
20-99 lines
100+ lines
The tiered pricing is:
Anything over 100 lines a business should contact sales for more custom pricing.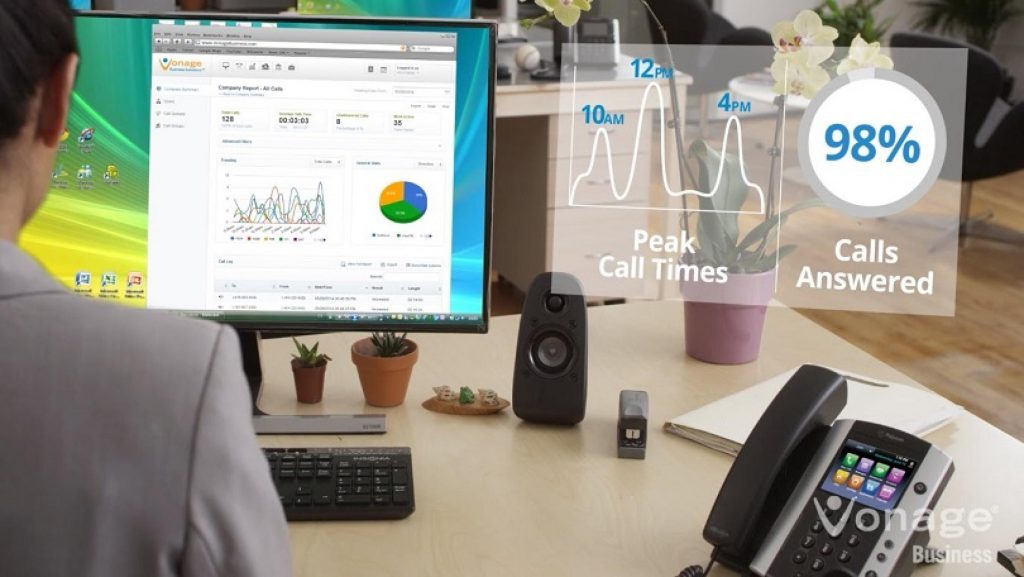 Mobile
The Mobile package allows a business to communicate through their mobile device or desktop. This is the best option for remote teams and for people who don't need a desk phone.
Pricing is as follows based on lines:
1-4 lines for $19.99
5-19 lines for $17.99
20-99 lines for $14.99
100 + lines call for a quote
Premium
The Premium package allows a company to communicate on any device. This package is best for traditional office environments.
Pricing is as follows based on lines:
1-4 lines for $29.99
5-19 lines for $27.99
20-99 lines for $24.99
100 + lines call for a quote
Advanced
The Advanced package is best for more complex analytics and business communications. You also receive a dedicated team with this package.
They will help set-up and onboard staff to ensure success.
Pricing is as follows based on lines:
1-4 lines for $39.99
5-19 lines for $37.99
20-99 lines for $34.99
100 + lines call for a quote
Pricing Factors for Office Phone Systems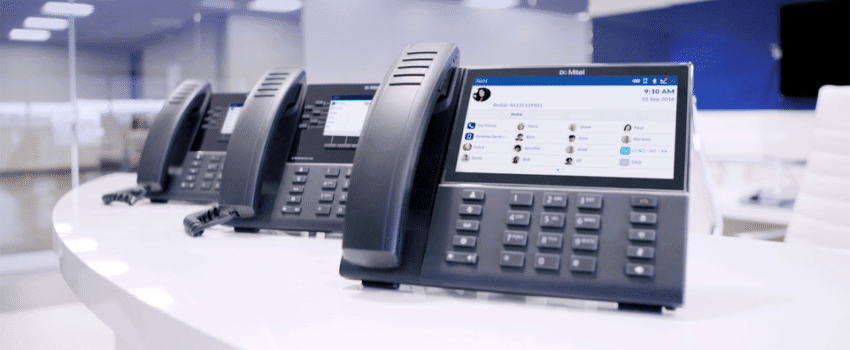 There are many good questions a business should ask before they determine the pricing that works for them.
If you are wondering how much an office phone system will cost, consider these factors:
Company Size
The number of users practically sets the price of your phone system. User needs should be focused on the number of phone lines required.
Some components of business may only require a single user, the reception or the mailroom.
When conducting user planning, it's important to consider not only external needs but how employees must communicate internally as well.
Number of Locations
If a business has more than one location, this cost will also have to be factored into the budget. A company with 20 users and a single site will have considerably fewer costs than a company with 4 sites.
Every location will add to the cost of installation, so this is also something to consider.
Hardware Type
Not every phone is priced the same. Depending on the brand and features, the hardware costs can vary drastically.
Whether you select a generic model or a brand name, other phone features you may choose from include:
Call forwarding
3-way calling
Intercom
Call transferring
Call hold
Automatic callback
Call waiting
Speed dial
Inside/outside ringing
All these features will have to be aligned with a company's needs to determine accurate pricing.

Extra Services
The basic package of any phone system gives an organization the ability to place and receive local/long-distance calls. This is the bare minimum.
There are many additional features you can choose to add on, depending on what you must achieve.
Some of those resources are:
Mobility
Conferencing
Enhanced 911 services
Call center
Interactive Voice Response (IVR)
Integrated CRM, ERP, or other internal software
Although these types of services can increase the cost of an office phone system, when integrated, they may decrease your cost on other apps, like 3rd party CRMs.
Required Training
Any employee who will be using your phone system must also be trained on the hardware and software. Effectively operating new technology will always have a cost associated with training.
The amount can vary by site and number of employees. Thus, a large company must incorporate training costs when considering the installation of a new phone system.
Annual Maintenance
Typically, office phone systems do not require a lot of maintenance, but that can vary according to the software. The more complex the system, the more you'll need updates.
Provider offerings can differ. Many small businesses opt for maintenance assistance in their contracts. This can keep the cost down.
However, if you have an internal IT staff, it may not be necessary to seek outside help.
Other Factors
Ultimately, the type of system you select will affect the cost of hardware, installation, and maintenance. It may also dictate the pricing of any add-on service.
Some general factors to consider when selecting a system include:
Cost
Reliability and uptime
Level of service
Add-on features
Customer support
Mobility
Integration with other systems
Easily to upgrade (better to scale)
The more research and planning performed, the fewer surprises on pricing.
Reasons to Get a Business Phone System
Whether you're a business of one or one hundred, there are many benefits to a dedicated office phone system. This can include:
Scalability
The ability to grow and scale a business partially relies on communication. After the initial investment in a phone system, any need to upgrade for growth is easy.
The infrastructure is already in place. It is simply a matter of purchasing more equipment for users.
Productivity
An office phone system helps keep operations on point and people motivated. It creates an environment of more open communication and easier accessibility.
Efficiency
Sharing voice resources means a company can streamline their business. Various elements allow an organization to run more efficiently.
These can include:
Transferring calls
Voicemail
Fax line conferencing
Integrated messaging
Call forwarding (to a mobile device)
All of these equate to lower costs for a business. The ability to forward messaging means staff can perform tasks from any location.
Get Free Business Phone System Quotes
Ready to Get an Office Phone System For Your Business?
An office phone line system can be a big commitment. As business moves into the next digital age, more remedial systems (like the Key) may be phased out.
The next step is true mobility. When a business can collaborate with staff anywhere on the planet, you've reached the next level of communication. And that ensures a strong path to success.
Another type of phone system not discussed here is VoIP, which relies on an Internet connection rather than a local network. Also, take a look at our cost guide for Avaya, a leading phone system provider.